Hardwood floors are a beautiful addition to any home. If you've recently invested in or have hardwood floors, you'll want to know how to maintain them to keep them shiny and new. With proper care and a few simple habits, you can protect your investment and extend the lifespan of your hardwood floors.
Dust or Dry Mop (Daily)
Dust and dirt can cause scratches that damage your hardwood floors. Think about how much dirt and debris gets tracked daily (especially if you have children!) A daily dusting with a good microfiber cloth or dust mop in high-traffic areas can prevent this dirt from spreading. You can also sweep your floor with an angled brush. However, sweeping often spreads dust into the air, making it a less desirable option.
Vacuum and Mop (Weekly-Monthly)
A weekly vacuum will remove all dust particles and keep your floors looking new! Use the proper floor setting on your vacuum to prevent scratches. It would be best to mop your floor every other week or as needed. When cleaning, use a flat mop with a microfibre mop cover. Once a month, use a hardwood floor cleaner designed for your floor's finish and follow all package directions. Avoid any harsh cleaning products that can cause damage to your hardwood. When mopping hardwood floors, minimal water should be used. Keep water from sitting on your floor, damaging or warping your floors. Ensure that your floors dry quickly.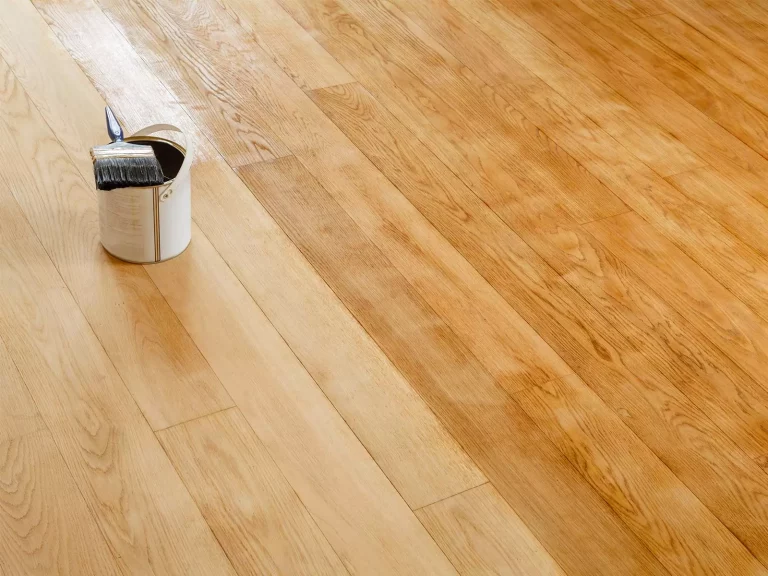 Refinish (Every 3-7 Years)
If your floors look a little dull after a few years, it is time to add a new coat of wood floor finishes to restore the wood to its original shine. If you need to gain experience in floor refinishing, consider contacting a professional.
Protect Your Floors

Preventing damage is the best way to maintain your hardwood floors. Here are a few additional tips to keep your floors looking new for years to come.  
-Add a doormat or rug at each entryway. This will catch rocks, dirt, and debris before they can get to your floors. Take off your shoes on the doormat, and ensure your family members do the same. Never wear high heels on your hardwood floors!
-Furniture can scratch and damage hardwood floors. Use furniture pads on the legs of chairs, couches, tables, etc. Another option is to add area rugs under furniture or in high-traffic areas.  
-Clean spills as quickly as possible. Never let water or liquids sit on your hardwood floors for any extended time. Clean and dry the area to prevent stains and other damage.  
-If you have pets, keep their nails trimmed to prevent scratches.
-Minimize sunlight. A lot of direct sunlight can fade your hardwood floors over time. Curtains will help block out some of the light.  
With just some maintenance and proper care, you can protect your hardwood floors from damage, keeping them shiny and new!